Thousands of years ago, the agrarian people living in the area now known as Ukraine depended on the Sun for survival.
It gave them light, warmed them and made their crops grow
They came to venerate the Sun as one of their most important gods and created rituals to honor this deity.
In this pagan era, spring rituals celebrated the return of the Sun after a long dark winter and the humble egg played a central role in this celebration.
Created using the batik wax-resistance technique, the Ukrainian Easter egg or pysanka (from the word "pysaty" or "to write") was believed to possess enormous power. For the ancients, holding a pysanka in one's hand was a way of harnessing the power of the sun. The whole egg represented the rebirth of nature, while the yolk alone was the symbol of the all powerful Sun god. Pysanky were revered as talismans; they protected the family against evil, disease and fire. People believed that through patterns on the egg shell they could send messages of tributes and entreaties to the pagan gods. When Ukraine accepted Christianity in the 10th century AD, many aspects of paganism were incorporated into the new religion. The pysanka transitioned from a spring ritual to a celebration of Easter.
An ancient Ukrainian legend of good versus evil
The inhabitants of the Carpathian Mountains in Western Ukraine believed that the fate of the world depended on the pysanka- the Ukrainian Easter egg. Each year, an evil monster — chained to a mountain cliff — sent his henchmen to see how many pysanky (plural for pysanka) were created in the land. If the number was high, the henchmen returned and tightened the monster's chains. If the pysanka creating tradition subsided, the monster's chains were loosened and he was free to wander the earth causing destruction.
Together with the Ukrainian Institute of America (UIA) and the World Federation of Ukrainian Women's Organizations (WFUWO), ethnographer and artist Sofika Zielyk has conceived a communal and participatory exhibition of Ukrainian Easter eggs. This initiative encourages people of all backgrounds, beliefs and ages, including children, to enrich a living installation of pysanky by contributing their own egg, hand decorated with traditional Ukrainian techniques and motifs. This installation is an ongoing, living, and evolving endeavor. As pysanky continue to arrive and their numbers increase, so will the symbolic power of the installation grow.
True to its symbolic meaning of rebirth, these
pysanky
will return to their ancestral homeland of Ukraine as it rises from the ashes of war. Read more about their
Journey to Ukraine.
Ultimately, good will prevail over evil.
This installation is an ongoing, living, and evolving endeavor.
As more pysanky arrive — in person and by mail from all over the world — the installation grows in size and symbolic power.
"The essence of this project is to show the world, to show ourselves and to show the aggressor, that we have been here all along. We remain here and we will always be here."
As an ethnographer and folk artist, I practice cultural diplomacy through the creation of Ukrainian Easter eggs or pysanky (singular: pysanka). Making pysanky is a deep-rooted tradition incorporating an ancient technique that began on the territory of present-day Ukraine thousands of years ago. Originally, it was a pre-Christian spring ritual. Eggs, decorated with symbolic motifs, were believed to hasten the return of the sun god and encourage the rebirth of nature after a long winter.
The ongoing tradition of making pysanky served to reassure people that their world would continue to exist, if they didn't stop decorating eggs. According to folk legend, a monster, who is the embodiment of evil, lives chained to a mountainside. If the adornment of eggs ceases, the monster will break his chains, escape from his cave, and destroy the world.
With the full-scale Russian invasion of Ukraine, the pysanka tradition became my weapon of choice against this evil. Using my social media platform, I asked people of all ages, all backgrounds, artists and non-artists, Ukrainians, and non-Ukrainians alike, to create a pysanka decorated with traditional motifs and technique and send it to the Ukrainian Institute of America, where it would to be added to a collective display/installation – a community action. This initiative quickly became a defiant response to the aggressor, a response to those who are determined to destroy the people and culture of Ukraine. This installation is not static; it constantly evolves and expands as more and more eggs are received and added to the exhibit.
Within the physical framework of this installation, pysanky are placed laid out arbitrarily, on a rough woven burlap cloth which covers a large wooden stand, evoking its affinity with the earth. In Ukrainian mythology, earth-soil is highly symbolic, as evidenced by an old saying to wish someone good fortune: "Be healthy as water and rich as the earth." The deliberately random placement of these pysanky means that no particular artist-participant or specific egg is highlighted. It simply shows strength in numbers — a primeval, cultural strength.
A rushnyk (ritual cloth) decorates one section of the exhibit. The rushnyk is a talisman, a protector against evil. Other traditional elements from Ukrainian mythology also embellish this installation. Barvinok (periwinkle), which is always green, appears as a symbol of everlasting life. Kalyna (guelder rose), with its deep red berries, represents beauty and is the unofficial symbol of Ukraine. Pshenytsya (wheat stalk) denotes Ukraine as the breadbasket of Europe. A candle wrapped in red ribbon is included to honor all the souls, military and civilian, that perished during this time of war. The color red in Ukrainian mythology serves as protection for these souls from evil. Ultimately, the assembly of mythologic and symbolic elements create a unified talisman, a powerful force for imminent rebirth; for everything to exist, for everything to be good.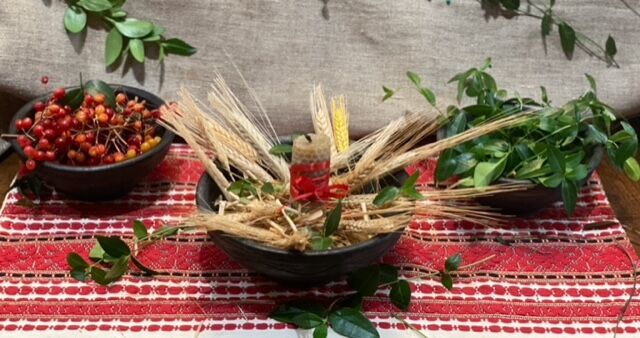 The final phase of The Pysanka: A Symbol of Hope this cooperative and inspirational project, will include bringing all the decorated eggs to Ukraine — a return home, as it were. There they will be incorporated into the same ancient rituals as practiced by our ancestors. Egg shell fragments will be mixed in with animal feed for healthier livestock, buried in the ground for bountiful harvest, placed in the four corners of new homes being constructed as protection again evil. Pysanky will be placed on graves of children murdered during the war, to provide them something to play with in the afterlife. The energy and power of the collective creation of the of pysanky will be the legitimization of our story and will force the monster to remain forever chained in his cave and unable to wreak havoc on the world.
In collaboration with the World Federation of Ukrainian Women's Organizations and the Ukrainian Institute of America, the intent of this cultural initiative is to confirm directly to Ukrainians that they have our undying support and to let them know that they are never alone. The power of these eggs, these pysanky, will serve as a foundation in their efforts to achieve victory in the war and to rebuild their country and nation.
Artist and ethnographer Sofika Zielyk, a native New Yorker, holds a degree in Art History from New York University.
She started making pysanky and ceramics when she was six, having learned the basics of these traditional Ukrainian art forms from her mother. What began as a hobby has developed into a professional pursuit.
Sofika has exhibited her work extensively, most notably at the Metropolitan Museum of Art, the American Museum of Natural History, Museum of Arts and Design, the office of the Security Council at the United Nations in New York, the Embassy of Ukraine in Washington, D.C., America House, a component of the US Embassy in Kyiv, as well as venues in Paris and Rome. Her pysanky are in the permanent collection of the Ukrainian Museum in New York, the Embassy of Ukraine in Washington, D.C., America House in Kyiv and the Pysanka Museum in Kolomyja, Ukraine. Interviews with Sofika have been published in New York Newsday, The World and I, The New York Daily News and Crain's New York Business.
In 1992 Sofika was the first American of Ukrainian descent to exhibit her work in her ancestral homeland (Taras Shevchenko Museum, Kaniv, Taras Shevchenko Museum, Kyiv.) She has also been accepted as a full-fledged member of the prestigious Association of Folk Artists of Ukraine. Photographs of Sofika's work have been prominently featured in the book "Festivals of the World: Ukraine" published by Times Editions, in a coffee-table book entitled "Decorative Eggs" published by Crescent Books as well as in "Malevich" by Rodovid Press.
In early 1993, a bilingual book on "The Art of the Pysanka" by Sofika was published in Ukraine. It contains 100 color photographs of her eggs as well as sections on the lore of Ukrainian Easter eggs and step-by-step instructions.
In 2014-2015 Sofika received a Fulbright Scholar grant and spent 8 months in Kyiv, Ukraine researching "Folk art as inspiration and muse for early 20th century artists of Ukraine".
When Russia invaded Ukraine in 2022, Sofika quickly engaged in cultural diplomacy, using her artistic talent and ethnographic expertise to support Ukraine. She has been interviewed by CNN, Time Magazine, The Washington Post, and several local New York City TV stations. She has also been featured on NPR's "All Things Considered".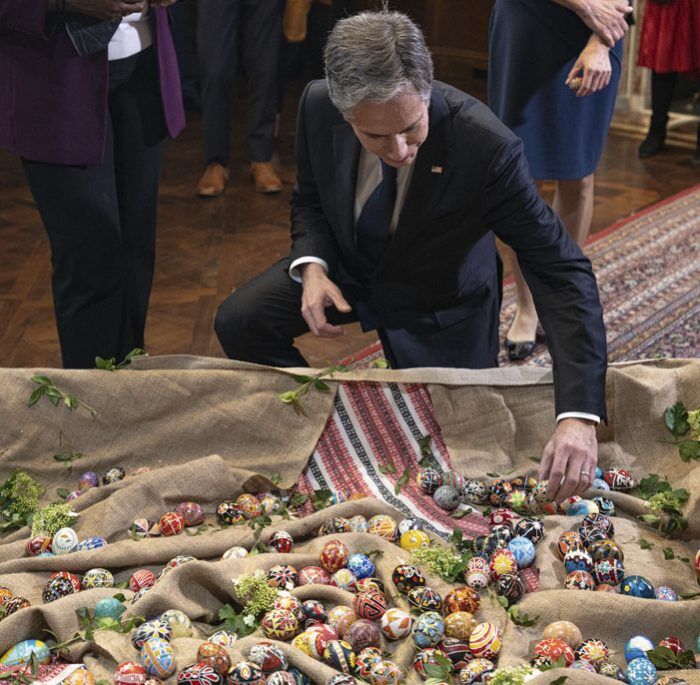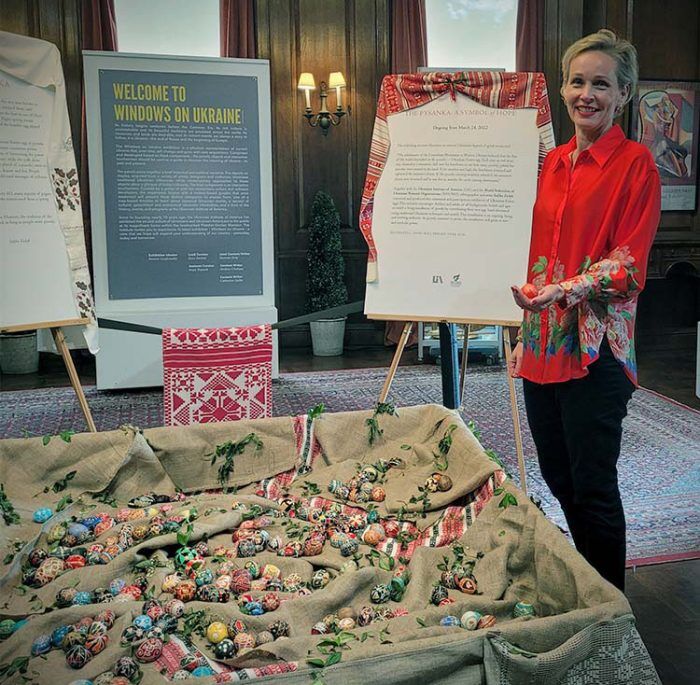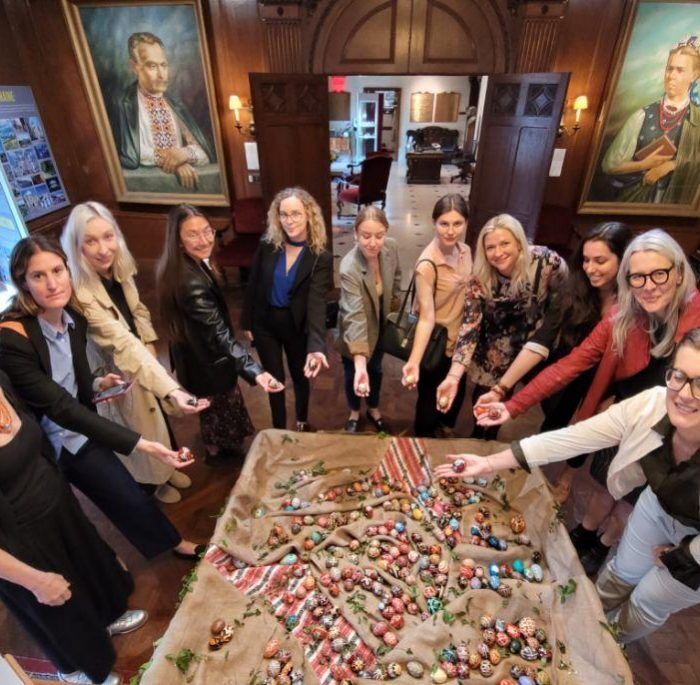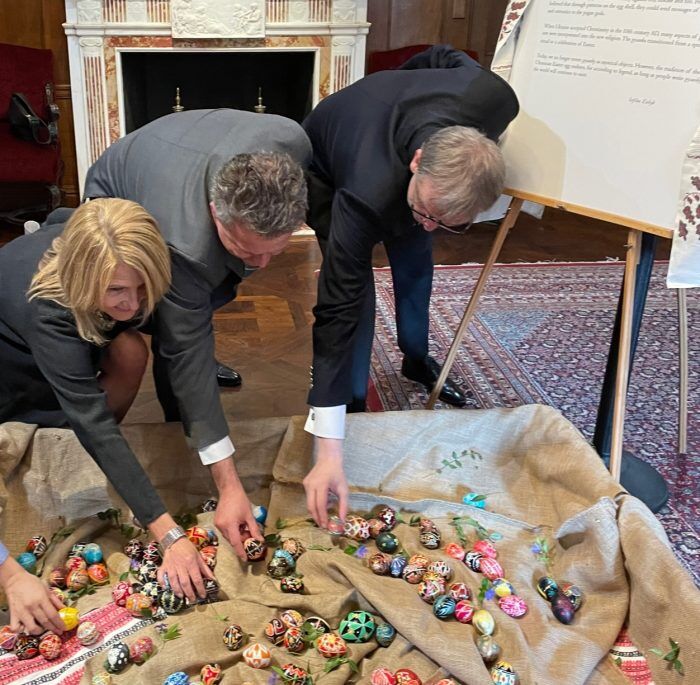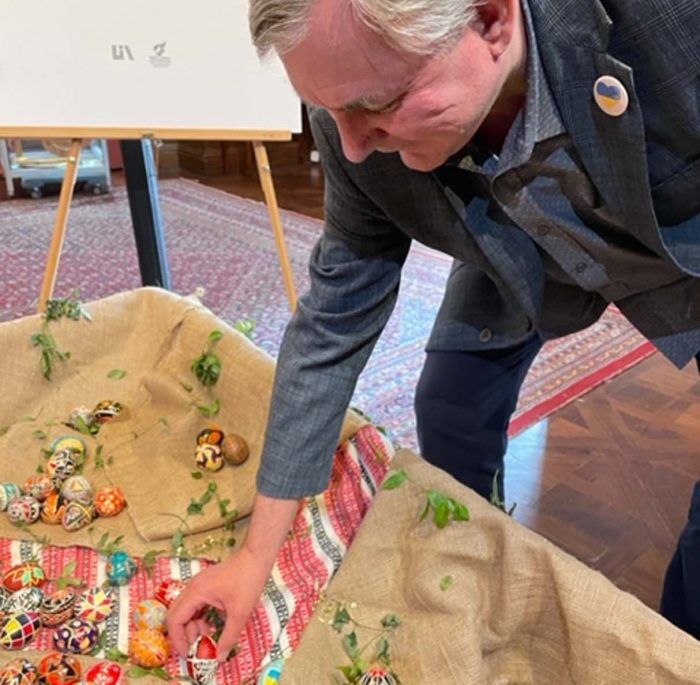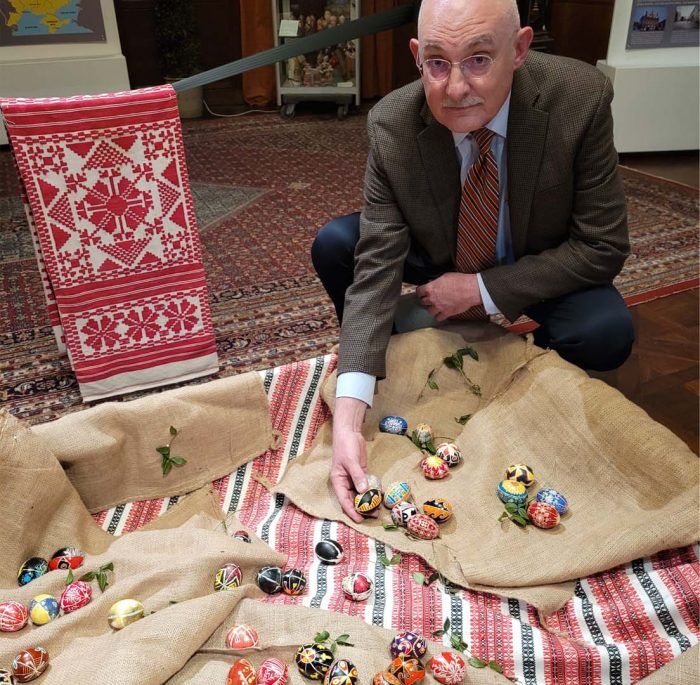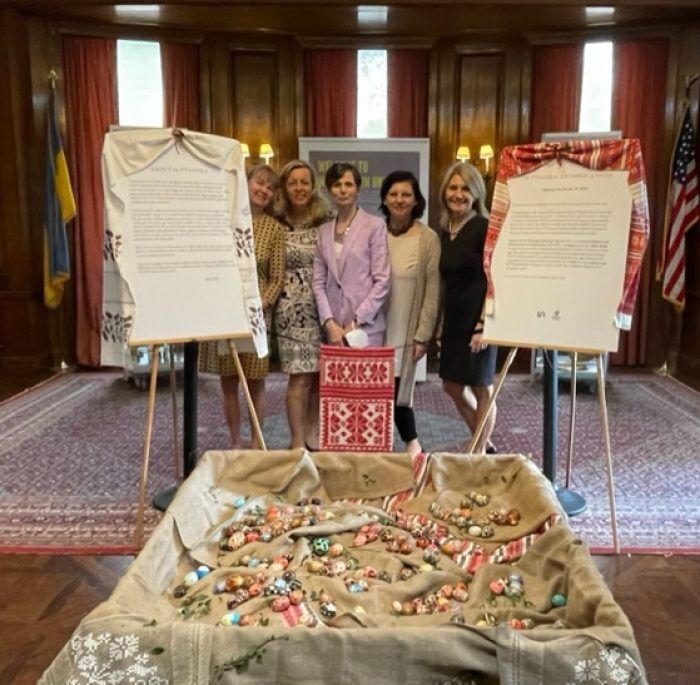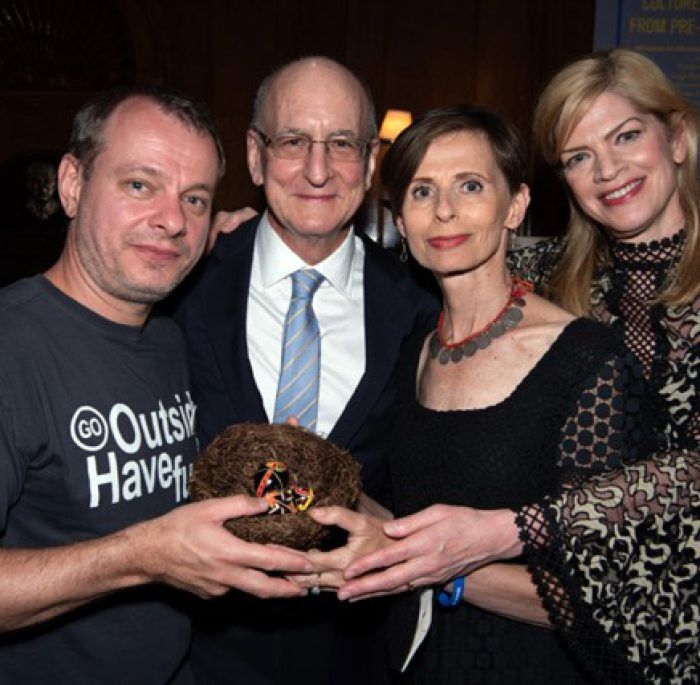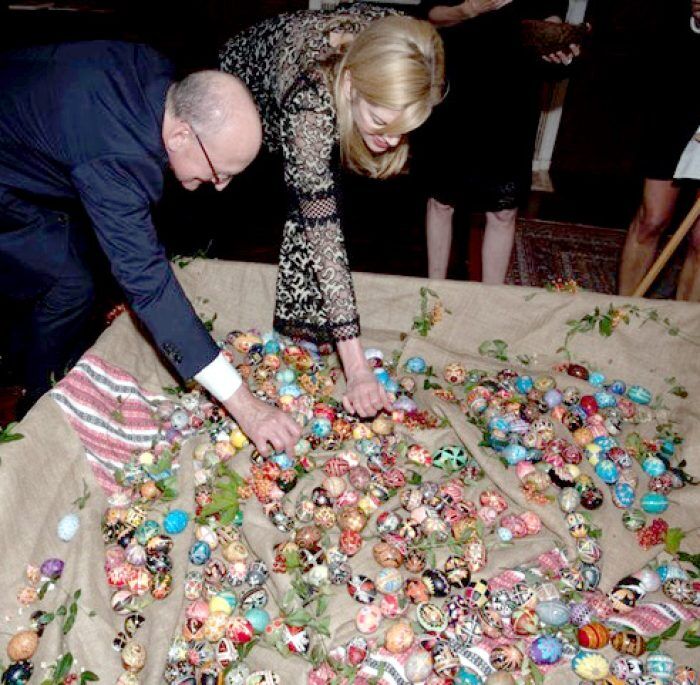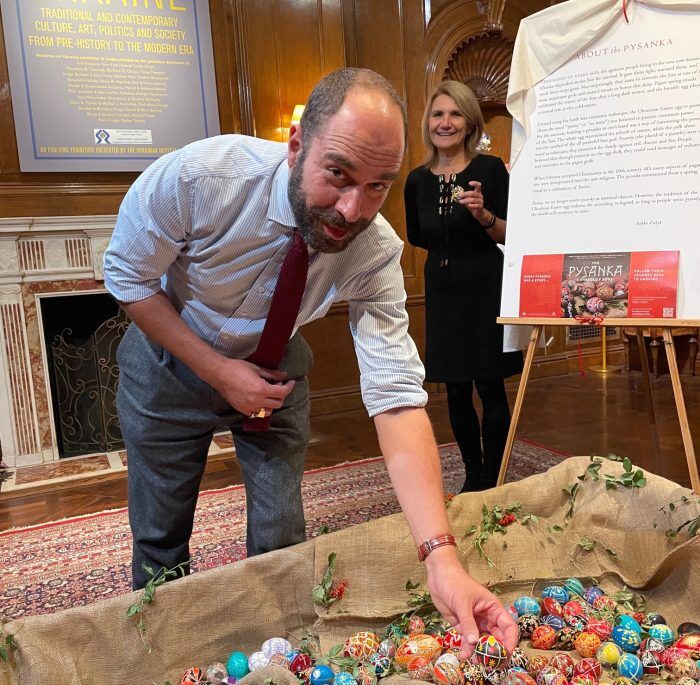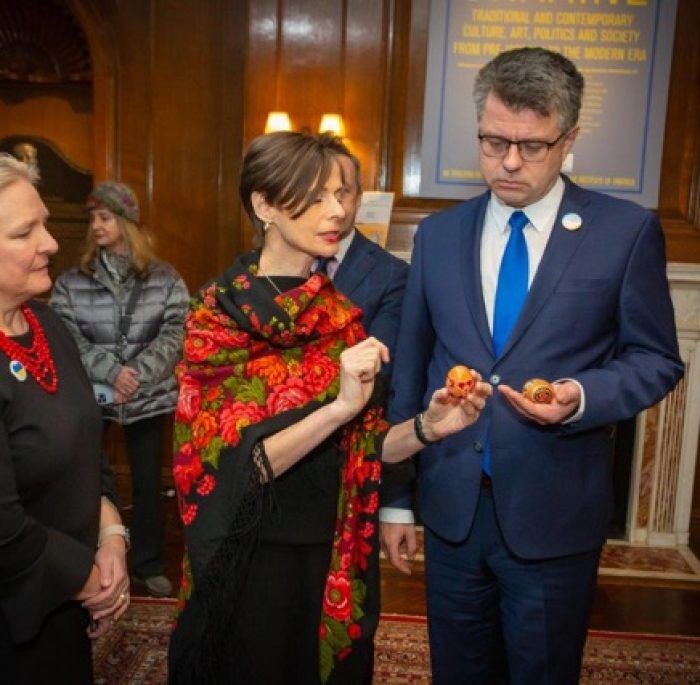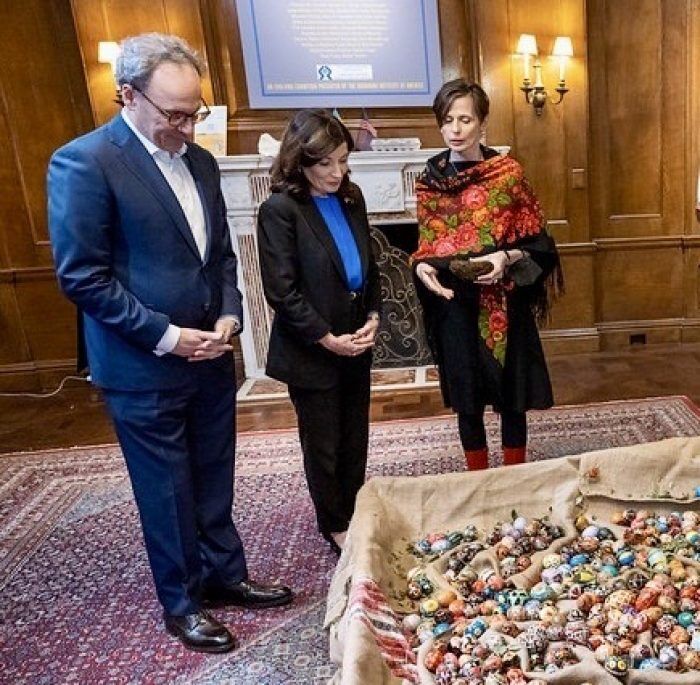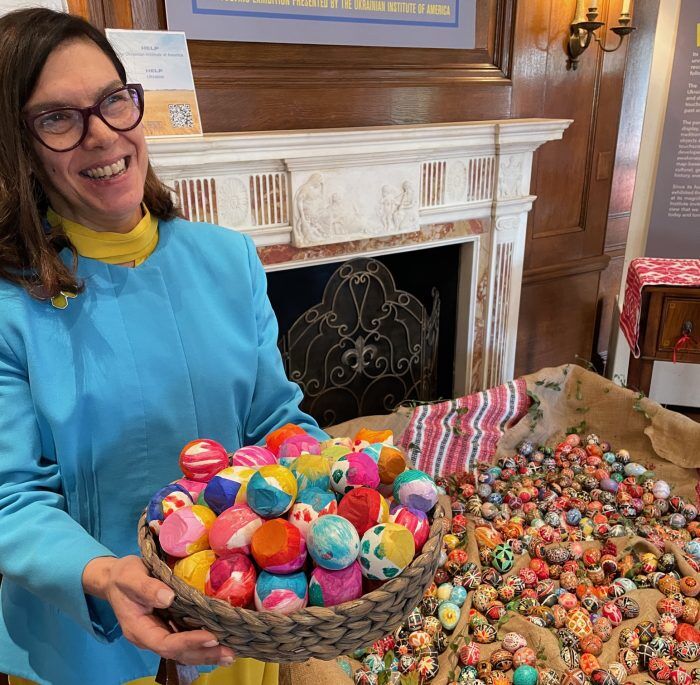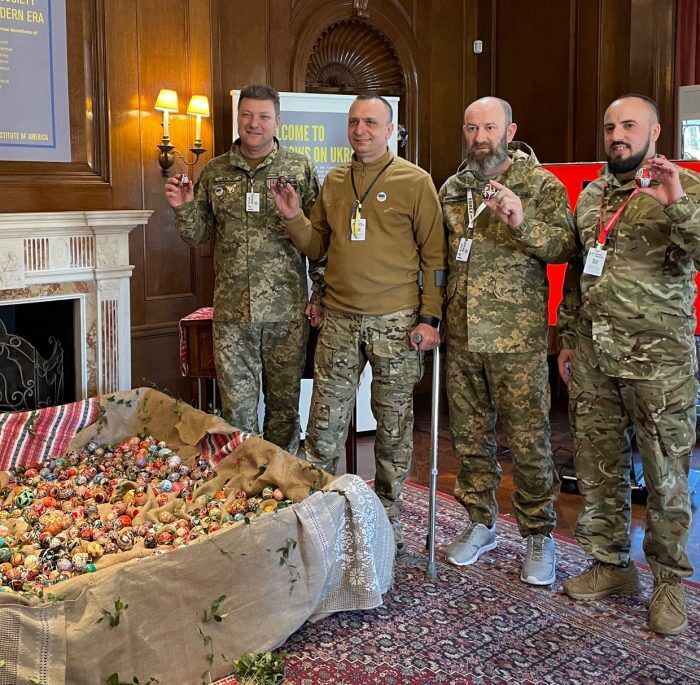 Part of Putin's war is an attempt to erase Ukrainian identity. I visited the @UkrInstitute, an organization that is preserving and promoting Ukraine's vibrant & living culture, to underscore the Kremlin's war on Ukraine cannot erase what makes the country & its people so unique. pic.twitter.com/ndebZiimOz

— Secretary Antony Blinken (@SecBlinken) May 23, 2022
What a treat to visit the @UkrInstitute with @SecBlinken and hear from a group of talented Ukrainian musicians. In the face of Russia's brutal invasion, music remains a source of joy and comfort for the people of Ukraine. https://t.co/rcSRe0yhI7

— Ambassador Linda Thomas-Greenfield (@USAmbUN) May 20, 2022
Classes are organized at various venues throughout the United States. Participants create their own pysanky which are then placed in the installation.
To schedule a workshop please write to the Ukrainian Institute of America at pysanka@ukrainianinstitute.org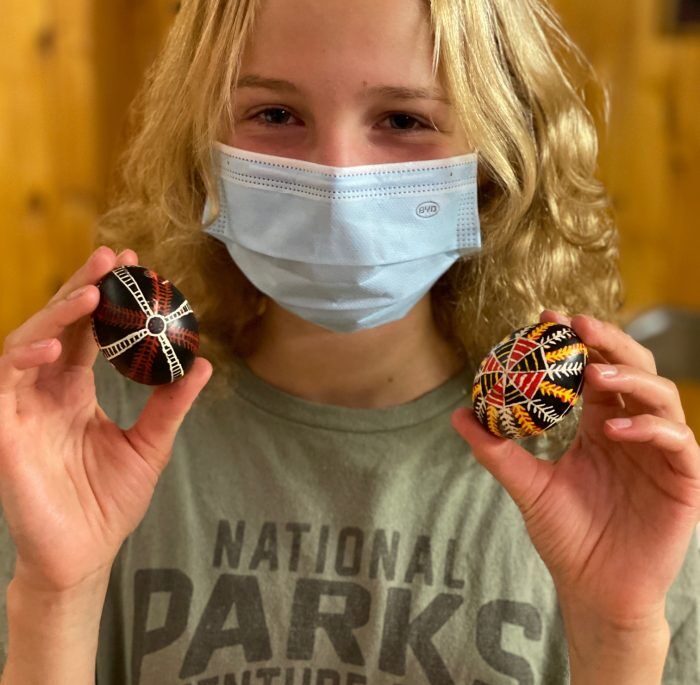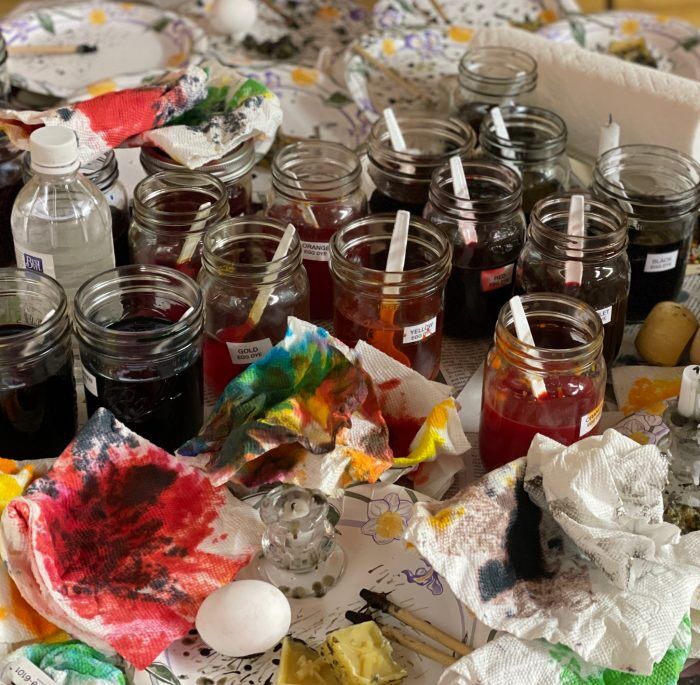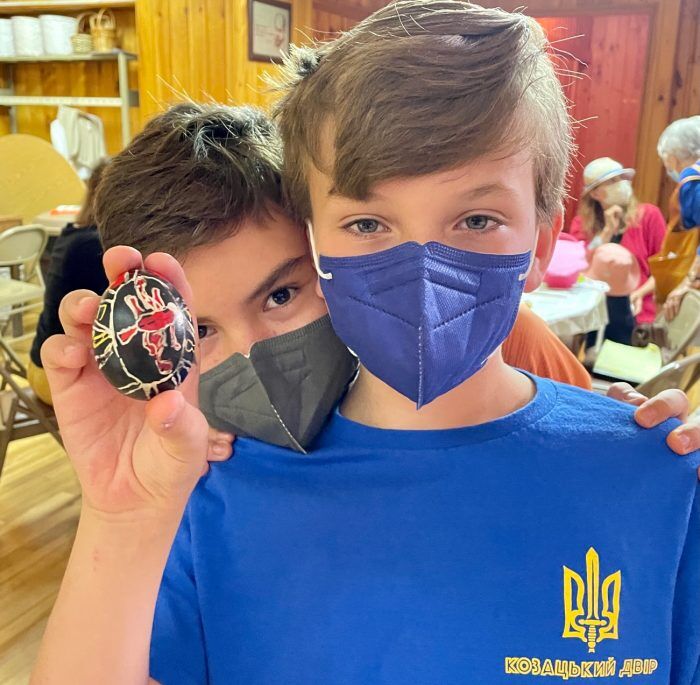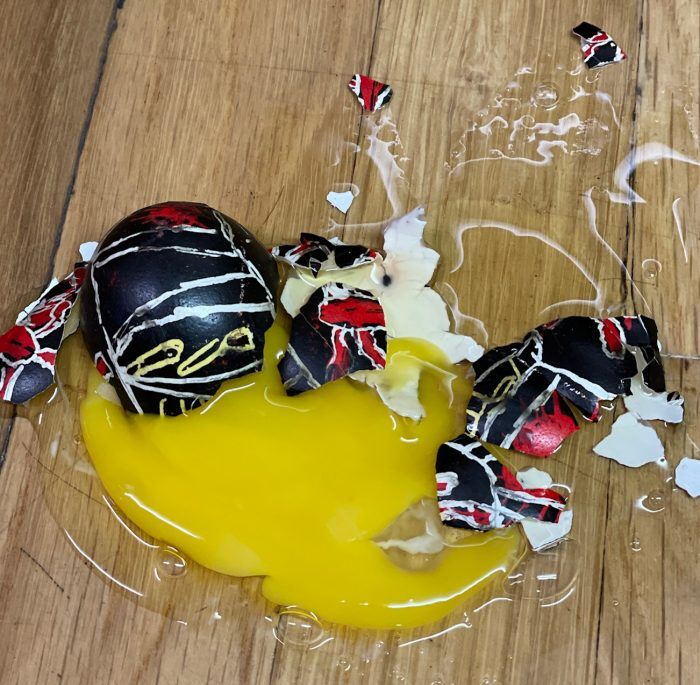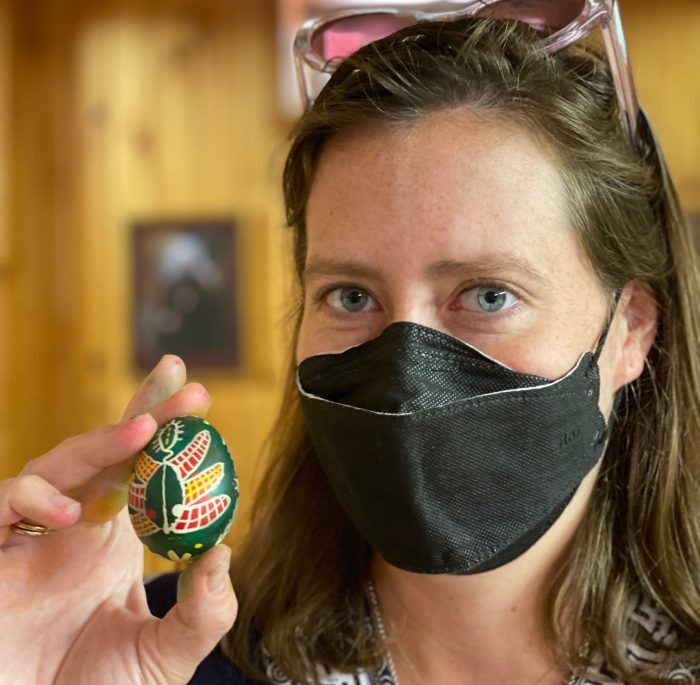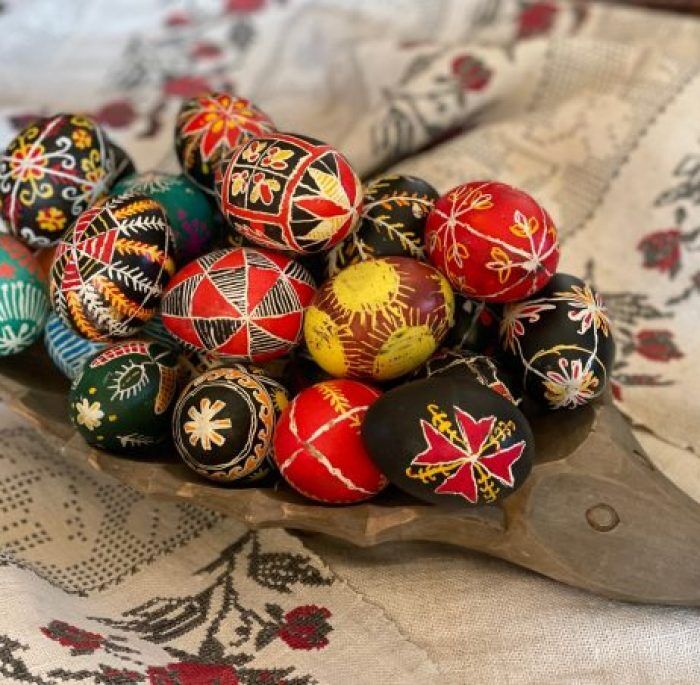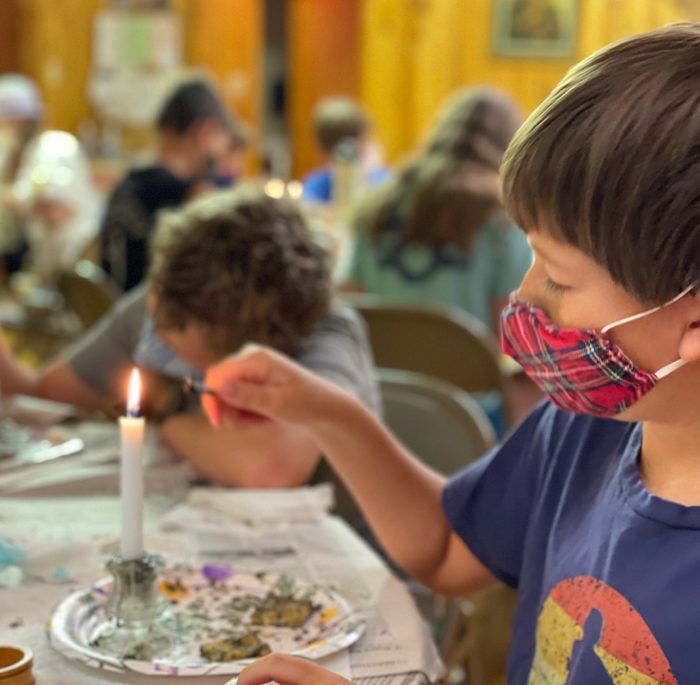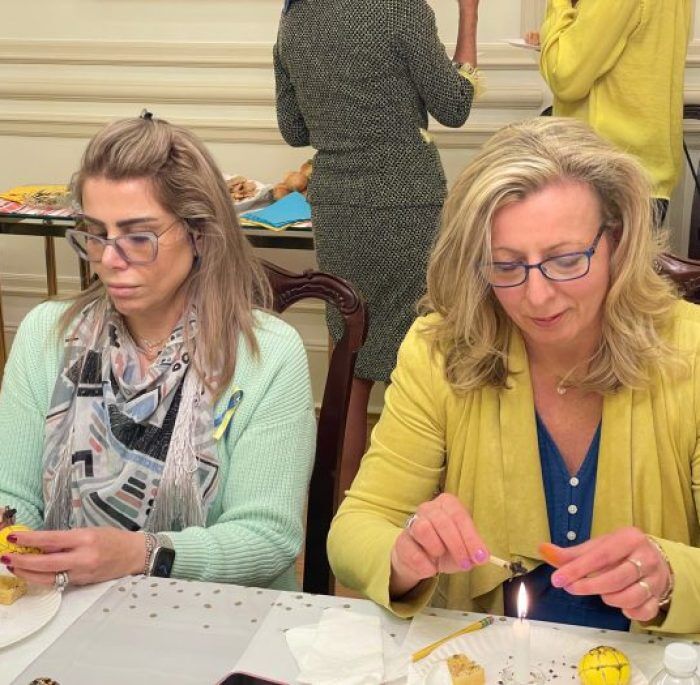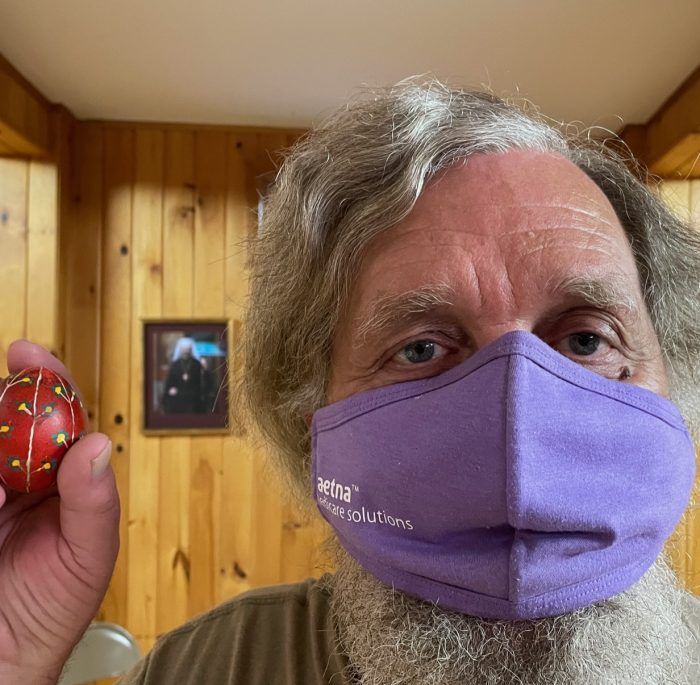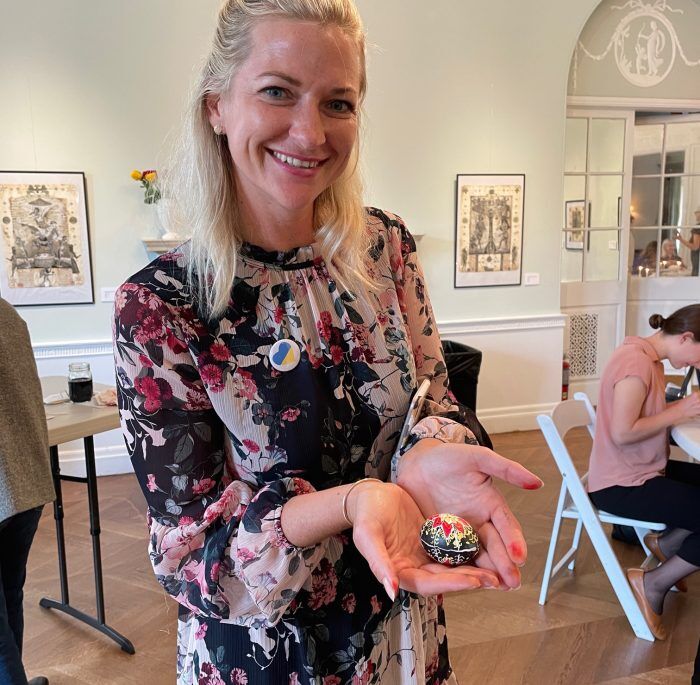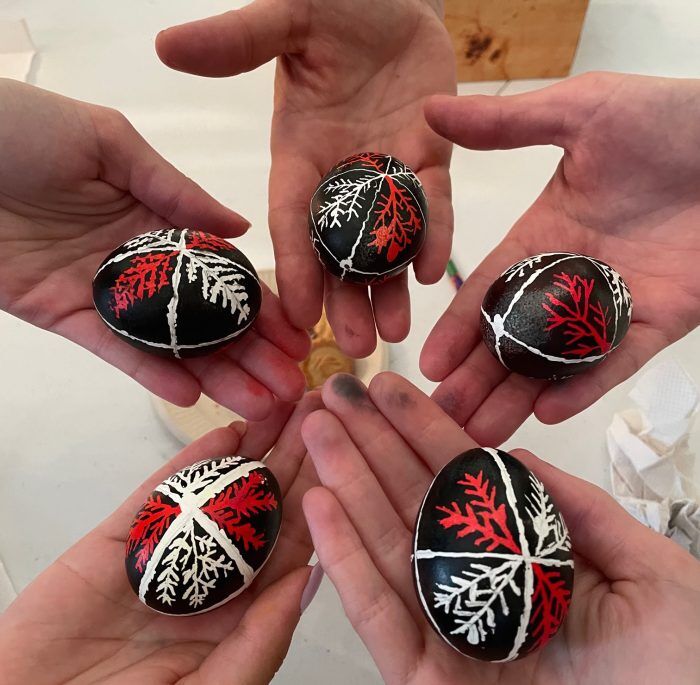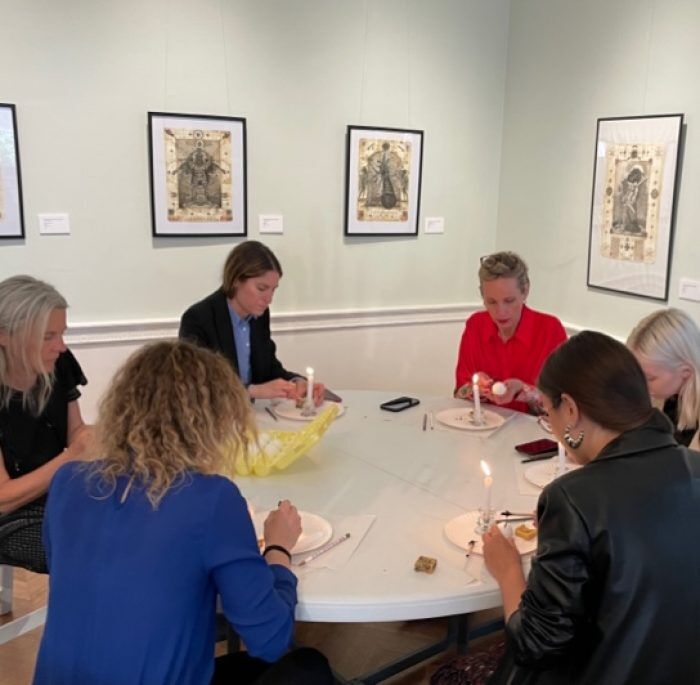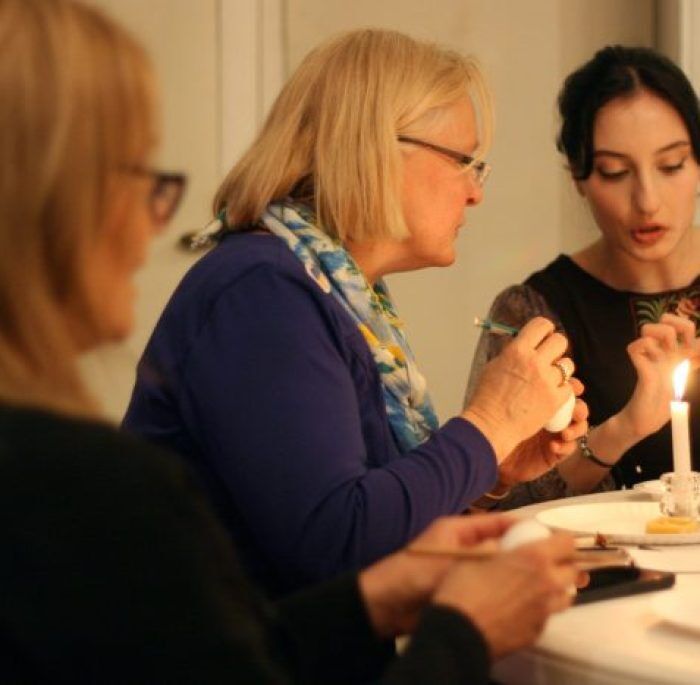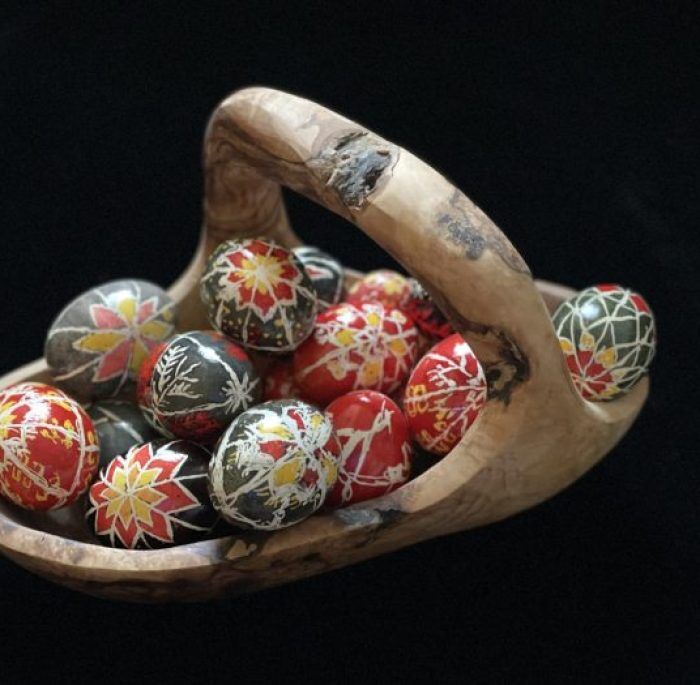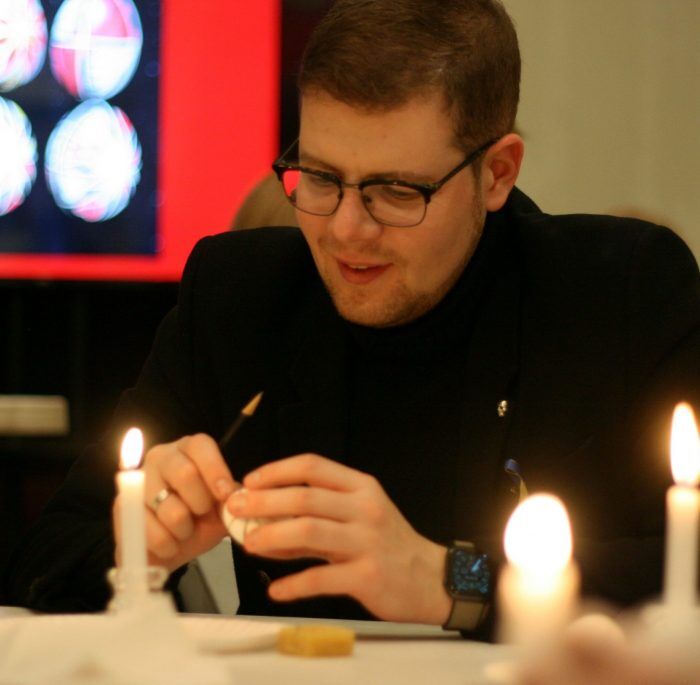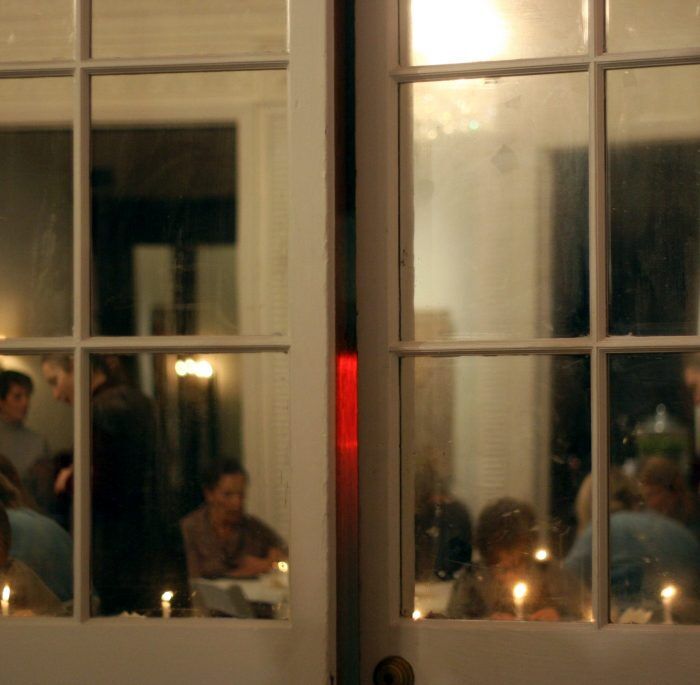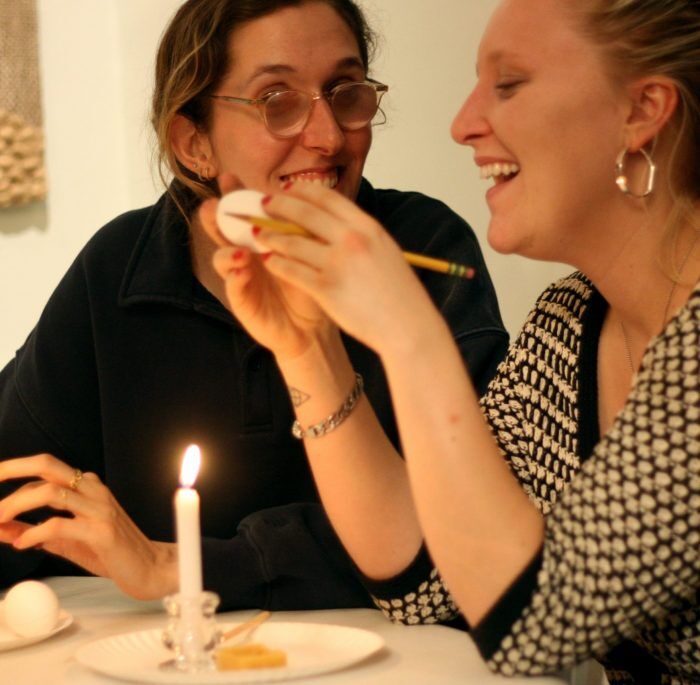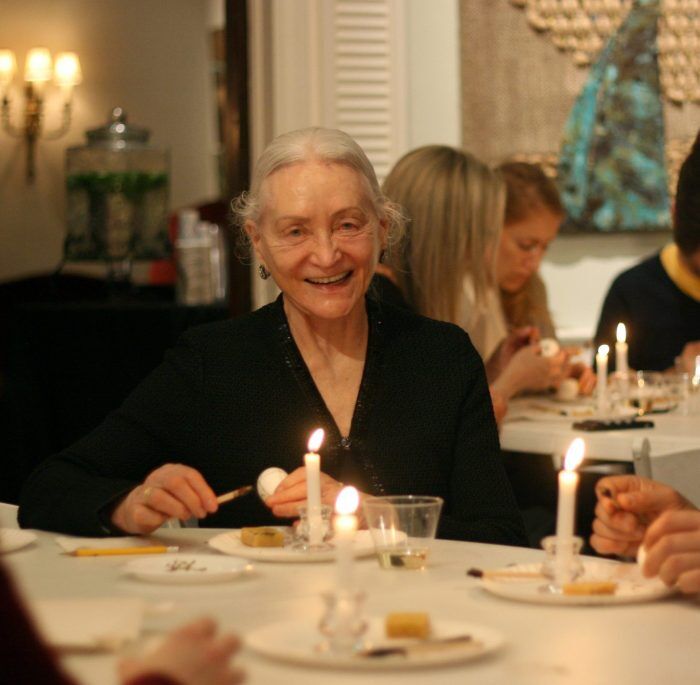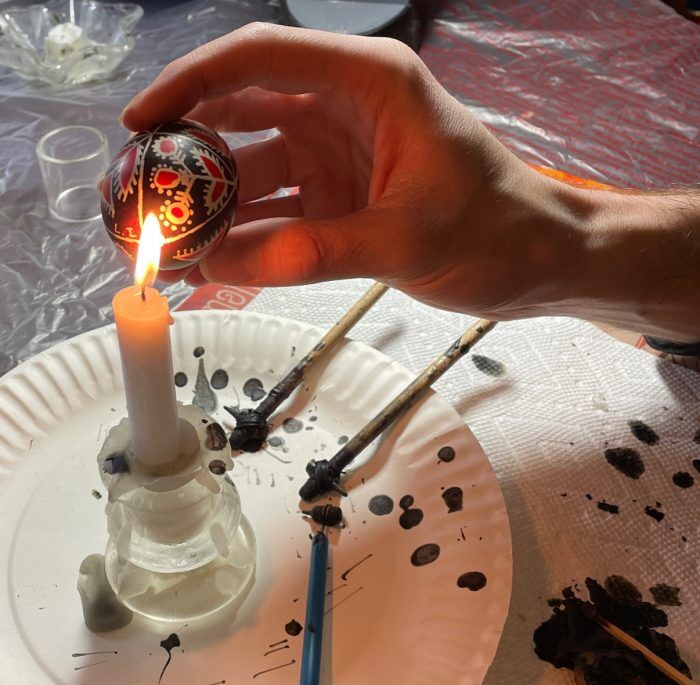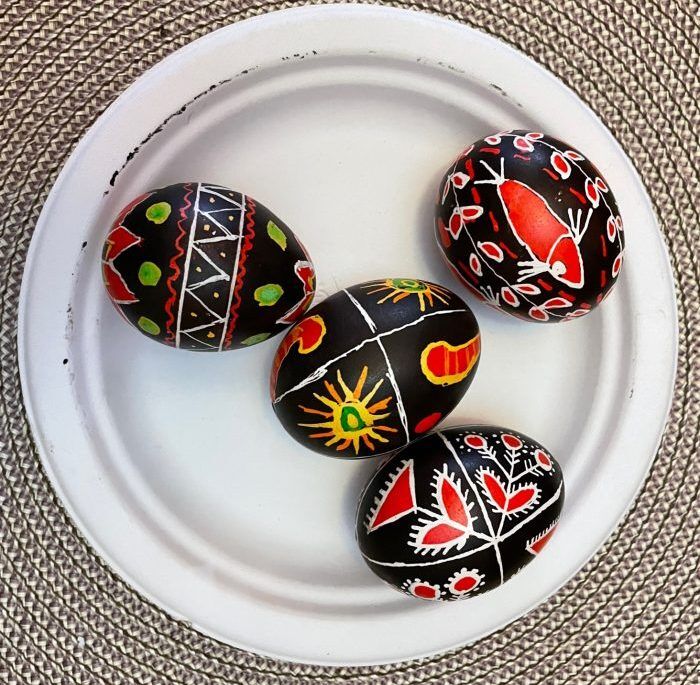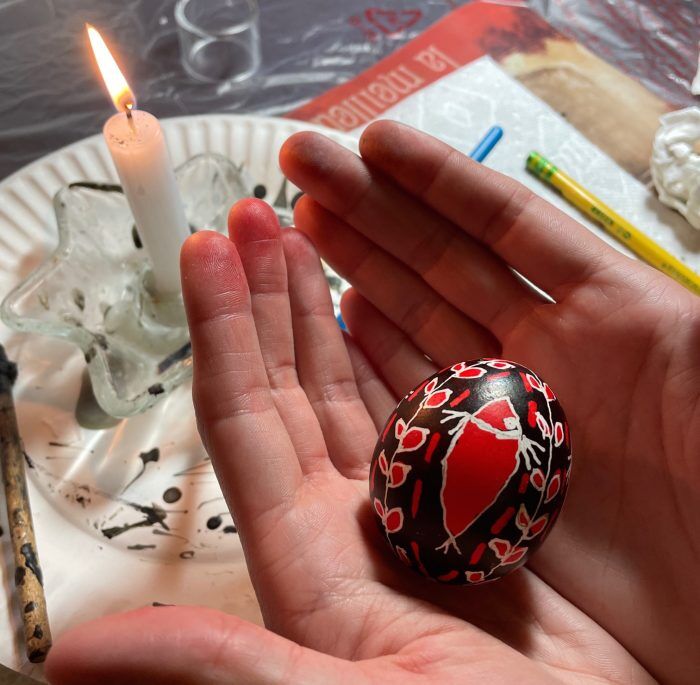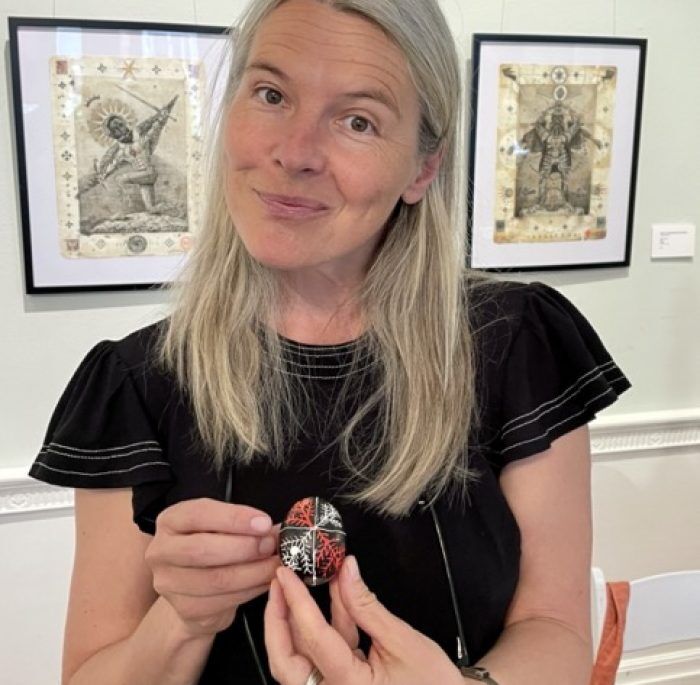 Pysanky were created to hasten the return of the sun god and all of nature after a long, dark winter.
But they were also regarded as talismans. They protected the family against evil, disease and fire.
A large bowl of pysanky was always kept at home during springtime. No one ventured out of the home without the protection of one of these magical oval objects.
However, these decorated eggs were not meant to last forever. They were incorporated in annual rituals of renewal. Egg shell fragments were mixed in animal feed for healthier livestock; pysanky with eternity symbols were placed in bee hives for endless flowing honey. They were buried in the ground for bountiful harvests and placed in the four corners of houses being built, as protection against evil. Pysanky were also placed in graves of children who died during the spring/Easter season, so that they would have something to play with in the afterlife.
All the pysanky donated to "The Pysanka: A Symbol of Hope" installation will travel to the areas of Ukraine affected by the war.
They will be incorporated into the same ancient rituals that our ancestors performed thousands of years ago: put in beehives, buried in the ground, placed on graves of children murdered during the war. But this time, the rituals will be performed not with the intent of hastening the return of the sun god after winter, but for the rebirth of a nation from the ashes of war.
Please add to the power of
"The Pysanka: A Symbol Of Hope."
Send your empty, traditionally-decorated pysanka to:
The Pysanka Project
C/O The Ukrainian Institute of America
2 East 79th Street
New York, NY 10075
USA